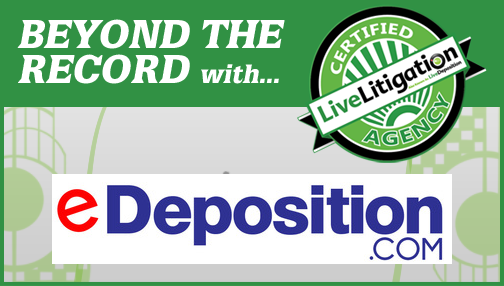 Agency Name:  eDeposition
Website:  www.edeposition.com
Location:  Jackson, MS
Areas Served:  Worldwide
Years in Business:  31
Services Provided:  Court Reporting, Video, Interpreting, Subpoena Service, Case Management, Real-Time, Remote Streaming, Exhibit Linking, Video Synching, Online Scheduling and Repository with 24/7 Access
Name and Title of Interviewee:  Candace O'Barr Jones, CCR – Co-Owner/Court Reporter
What is the background of your agency?
We have been involved in complex mass tort litigation since we began business in 1985 and have reported depositions across the United States. One of the most exciting was the Jeffery Wigand deposition in the Tobacco Litigation, on which the movie The Insider was based. Over 50+ lawyers attended and news media from around the world. Although we have been through a few name changes, our commitment and service to our clients has remained steady.
What is your agency motto?
Consistent Innovation. Proven Dependability. Unwavering Commitment.
What sets your agency apart?
Our friendly customer service and commitment to exceeding our client's expectations in all we do – anywhere, anytime. Our clients enjoy the ease of one call to our office to set up their depositions and videography, whether their deposition is across town or around the globe. We have the experience, expertise and resources of large national agencies but answer to our clients, not to layers of management and stockholders.
What advice would you give students or those just entering the field of court reporting on how to align themselves with an agency?
Find an agency that will invest time in you and has a genuine interest in assuring you will become an outstanding reporter.
Since your agency first opened, what do you feel has changed the most in the industry?
Technology – From the invention of the internet and email to video streaming and electronic transcripts and exhibits.
Where is the strangest place your agency has been asked to take a deposition?
On the hood of a car in a parking lot. It was an asbestos deposition with around 10 lawyers in attendance, and I had to place my stenograph machine and recorder on the hood of the car and stand. About an hour into the deposition, the deponent decided he was ready to leave and got into the car and peeled out. I barely had time to grab my equipment, and lawyers were literally jumping out of the way.
What do you like most about LiveLitigation?
The ability to connect our clients to a deposition anytime, from anywhere via video streaming. Our clients and our team have enjoyed the flexible cost effective option to attend the deposition on their computer or mobile devices in an easy-to-use platform and without any additional software or equipment needed. It has made traditional video conferencing for depositions almost obsolete!
Anything else you would like to share?
A testimonial from one of our clients: "I have practiced law for 42 years and have seen a multitude of innovations and improvements in litigation tools. The most impressive of them all is LiveDeposition, which I recently used for multiple depositions taken around the country. Without leaving my desk, I could 'attend' as if in the room – the sound quality was excellent and the live stream was perfect. In travel costs alone I saved tens of thousands of dollars, not to mention the time saved in unnecessary travel along with wear and tear of travel. In my opinion LiveDeposition is as innovative as the copy machine, email, and even cell phones. Try it in the right case and you will ask yourself why you didn't do it sooner." Richard A. Sayles, Sayles/Werbner